AN ANCIENT RESPONSE TO A MODERN VIRUS (C&MA)
from https://www.cmalliance.org/news/2020/02/21/an-ancient-response-to-a-modern-virus
Christ's example prompts us to look beyond ourselves to those more vulnerable.
We are grateful that as of March 1, we have received no reports of Alliance people contracting the novel coronavirus. Despite the complications associated with international travel and large public gatherings, we are thankful for God's protection as we continue to pray for Alliance workers, laypeople, and those throughout the world who may find themselves vulnerable to exposure as the virus leaps borders and keeps researchers scrambling to understand its transmission, incubation, prevention, and treatment.
When unforeseen outbreaks like this suddenly materialize, it can be easy for us Christ followers to lose our bearings and get knocked off course. In our mortal drive for self-preservation, we often assess the potential risks to ourselves and our loved ones and take protective action. Swimming against the stream, however, the Holy Spirit gently directs our eyes and hearts back toward those at much greater risk who lack access to critically needed physical, emotional, and spiritual care.
Church history reminds us of the countercultural posture of our spiritual ancestors during times of great affliction. In 252 A.D., a devastating plague hit the ancient North African coastal city of Carthage. Healthy people fled in droves, leaving everything behind. In response, Carthaginian Bishop Cyprian drew all the Christians into the center of the very city where they had been persecuted and told them,
"If we're going to do what Jesus did, so that through His poverty we might become rich, I call you to give personal and financial aid, care, and comfort to all according to their need, not their faith."
This unconventional posture clearly differentiated these early Christians from the society that surrounded them and contributed significantly to the perpetuation of the Christian faith.
About a century and a half later, the ancient Mediterranean city of Caesarea had already been suffering the effects of famine and war when the plague struck. As citizens began fleeing the city, one group determined to remain: the Christians. As Bishop Eusebius reported,
"All day long [the Christians] tended to the dying and to their burial, countless numbers with no one to care for them. Others gathered together from all parts of the city a multitude of those withered from famine and distributed bread to them all."
Eusebius goes on to state that because of their compassion in the midst of the plague, the Christians' "deeds were on everyone's lips, and they glorified the God of the Christians."
More recently, in April 2015, Rev. Moise Mamy and several others from the Eau de Vie Ebola awareness team, a ministry started by CAMA in Guinea, entered a number of villages in the southern part of the country, which was a hotbed for the deadly Ebola virus. Armed with bleach and other means to prevent the spread of the disease, the team sought to educate villagers on the dangers of Ebola and how to lower their risk of contracting it.
But when the team entered the village of Womey, the villagers attacked and killed Moise and seven others who had come to help them avoid infection. "Many places accepted their teaching," wrote Jon Erickson, an Alliance international worker and colleague of Moise's, "but some villagers had heard a rumor that the [bleach they were distributing], which kills the Ebola virus, was actually the virus itself."
In addition to being executive secretary of Eau de Vie and cofounder of Guinea's Hope Clinic, Moise was a fervent evangelist and the beloved superintendent of the Alliance church of the Mano, his people group. He delighted in radiating his Savior's love by preaching the good news and caring for the weak, vulnerable, and afflicted.
Although history may not regard the coronavirus as the plague of the twenty-first century, it still presents opportunity for Christ's Church to radiate His love to the overlooked and underserved. In his recent Christianity Today article, Stephen Ko, an Alliance pastor in Chinatown and former CDC medical officer, considers the outbreak's real threat to churches: withdrawing from their communities. "How could we say we loved our neighbors yet consider shutting our doors in their time of greatest need?" he asks. "If we believed in a Savior who healed the sick, bestowed sight to the blind, and touched lepers, why did we doubt his power to reign over this coronavirus?"
---
On pandemics and providence (World Mag)
By Russell St. John
https://world.wng.org/2018/02/on_pandemics_and_providence
March 11 marks the 100th anniversary of the outbreak of the Spanish influenza in America, but the virus left no part of the earth untouched. An estimated 50 million or more people died worldwide. According to historian Howard Phillips, influenza stole 6 percent of the population of South Africa in six weeks.
Many pastors there and elsewhere declared the pandemic a divine retribution for sin. Whether they blamed drunkenness, poor church attendance, general wickedness, or war, sin caused the pandemic.
Those pastors were not the first to offer a simplistic one-to-one correspondence between sin and calamity. Disease decimated Native Americans in 17th-century New England. Why? God favored the Puritans. So said Cotton Mather. The Confederacy fell to ruin after the bloodiest war in American history. Why? God hated slavery. So said Henry Ward Beecher. Hurricane Katrina destroyed New Orleans, hitting the poorest neighborhoods the hardest. Why? God opposes homosexuality. So said John Hagee.
From diseases to wars to natural disasters, Christians cannot resist offering simplistic explanations for complex events. No sooner does an earthquake rattle the ground than we forget Isaiah 55:8-9: "My thoughts are not your thoughts, neither are your ways my ways, declares the LORD. For as the heavens are higher than the earth, so are my ways higher than your ways and my thoughts than your thoughts." God's providence suffers no easy answers.
Laymen also tried to calculate the Spanish flu's terrible math. Katherine Anne Porter survived it and translated her experience into Pale Horse, Pale Rider. The novel pits human graft, politics, inhumanity, war, and the expectation of death against the bonds of human love. Pale Horse captures America at its bleakest—a country at war, whose diminishing political and economic hope merged with disease to enforce a fatalistic submission to the Pale Rider.
And yet Porter also hints that human love survives death. She offers redemptive themes but no simplistic correlation between the pandemic and the actions of God. The providence of God remains mysterious.
Christians balk when celebrities such as actress Jennifer Lawrence imply that Hurricane Harvey points to "Mother Nature's rage" for the election of Donald Trump. But many of those same Christians accept equally simplistic pronouncements from pastors and Christian celebrities. The Lord's rebuke of Job's counselors still applies: "My anger burns against you and against your two friends, for you have not spoken of me what is right." What had these faithless counselors said? They drew a one-to-one correspondence between Job's calamity and the Lord's actions. In short, they lied about God.
Nearly 675,000 Americans died in 15 months during the pandemic. As much we'd like to know why, we don't. When the next calamity befalls our nation—whether war or waves or pestilence—many preachers across this land will likely draw a simple line between sin and calamity. They would do better to remember the words of William Cowper:
"God moves in a mysterious way
His wonders to perform;
He plants His footsteps in the sea
And rides upon the storm.
"Deep in unfathomable mines
Of never-failing skill,
He treasures up His bright designs
And works His sov'reign will. …
"Blind unbelief is sure to err
And scan His work in vain;
God is His own interpreter,
And He will make it plain."
Few calamities more thoroughly confounded human understanding than the crucifixion of Jesus. It seemed an irreconcilable contradiction that the Messiah should die. Then Jesus rose, and by His resurrection the Father explained the inexplicable.
---
Worried About the Coronavirus? (BGEA)
By BGEA billygraham.org
https://billygraham.org/story/worried-about-the-coronavirus/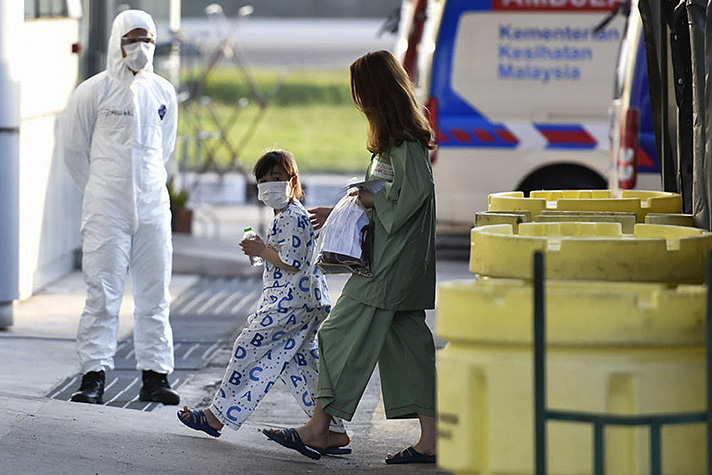 The coronavirus has been making headlines for weeks now, crippling economies, cancelling school, disrupting travel and killing more than 3,000 people around the world, with new cases reported each week. More than 70 countries and territories have had confirmed cases of the coronavirus, bringing the total number of those infected—most active, some recovered—over 90,000. On February 24, the DOW plunged 1,000 points amid fears of a pandemic, and as of March 3, six people have died in Washington state.
Franklin Graham offered prayers for those affected.
"We pray for the people of China and other nations where this virus is spreading. Our hearts go out to those who are sick and suffering and to the families who are grieving the loss of loved ones," he wrote on Facebook.
Graham, whose grandparents were medical missionaries to China from 1916-1941, has a heart for Christians in that nation. He also shared his desire that people in all nations—impacted by the coronavirus and otherwise—come to know true peace through Jesus Christ.
"King David said, 'Yea, though I walk through the valley of the shadow of death, I will fear no evil: for thou art with me…' (Psalm 23:4). One day we will all stand before Him and give an account of how we have lived our lives. My prayer is that each and every one will put their hope and trust in Jesus Christ."
Are You Worried About the Coronavirus?
The virus may be all over the news, but even at its worst, you can have the same peace Franklin Graham talked about. How is that possible when there's widespread panic?
Trust can calm our worries—but trust in what? Trust who? Who can be so strong and wise and good that you can entrust your life to him?
God is. God created you and loves you more than you can imagine. He knows your doubts and fears and He cares about them. The Bible, God's words to us, says, "[cast] all your anxieties on him, because he cares for you" (1 Peter 5:7).
That means giving your uncertainties and distress to the God who wants you to feel secure in Him. To experience that kind of security, you first need to have a relationship with Him. And He made a way for you to do that.
God cares so much about you that He sent Jesus Christ to save you from eternal separation from Him, providing a way for you to be with Him forever.
It's wise to protect yourself against this outbreak. At the same time, don't let anxiety consume your life. Jesus asks us in the Bible, "And which of you by being anxious can add a single hour to his span of life?" (Matthew 6:27).
Trouble and suffering will always exist, but you can have peace in your heart knowing your future is safely in God's hands.
Will you put your trust in Him today?
Share this with someone who may be affected by the coronavirus.
---
LINK: How Do We Make Sense of the Coronavirus? (John Piper Audio)